Video:
Sweet Betsy DeVos
-
Tillerson, Putin & Trump
-
Fire Care
-
Blood from a Stone
THE CROSS AND THE LYNCHING TREE RAP
(based on an article by Michael Gerson )
Michael Gerson's mind got blown
By a book by James Cone
Called The Cross And The Lynching Tree.
The title alone does it for me.
The book tells of a situation in Valdosta Georgia in 1918.
Valdosta, named after a Georgia Governor's cotton plantation,
Won many distinguished designations -
For commercial district vitalization, for historic preservation,
It was designated a Tree City USA Community
By the National Arbor Day Foundation.
Beautiful azaleas, and over 20 churches.
Well, 50 years before Goodman, Chaney and Schwerner,
Some town folks lynched an innocent man named Hayes Turner.
When his devastated wife Mary
Called out for justice, the sheriff had her busted.
The folks growing restless, said Sherriff you can trust us…
Then, reddened with blood lust, the mob went at her
And any vestige of chivalry shattered.
Mary was stripped, hung upside down,
Jeered at and cursed by her neighbors in town,
Soaked with gasoline and roasted to death.
Her swollen belly was ripped,
The baby she was carrying slipped to the ground
And was stomped to death by the Caucasian crowd.
No trial, no conviction, no remorse, no benediction.
Just town folk out with their children,
Revelers at an auto-de-fe, or a crucifixion.
God help us. These words are hard to say,
The depth of barbarity, hard to convey.
What is it, this evil? Is it our chemistry?
Is it jealousy, this odious evil of white supremacy?
This dehumanization, this bridge to damnation,
It's the thing that nearly broke the nation,
That shattered the teachings of Jesus to bits,
Unveiling Christians as vile hypocrites -
For generation after generation.
It's been 400 years now, of routine horrors:
The slave ships loading and landing,
The overseers' whips, the beatings, the brandings,
The auction block, the impassive bids,
The wails of the women, the shrieking kids,
In the agony of family separations.
400 years without autonomy,
Fueling - by trillions - the U.S. economy,
With no reparations.
400 years looking for a Moses
Reaping mass incarceration, police dogs, fire hoses,
All the cruelty power imposes.
Bitter fruits from the poisoned roots of southern tradition,
Supported by every prominent politician.
Like James Baldwin said:
The only people in the country – now, this very minute-
Who believe in Christ or country,
Are the most despised in it.
Race hatred triggered the fire that left us disfigured,
Distorted whatever it was we thought race meant.
When racism rages, we're shocked in amazement -
It's the beast we try to keep locked in the basement.
We just can't stand there and gawk
When the president fiddles with that fire,
Or takes that beast out for a walk.
It's not just another political event.
Hell, he's the president!
Where's Congress with its advice and consent?
The tinder has always been there,
But he set the blaze. The way he behaves
Is an abomination. It's a cause for deep shame.
It's a violation of the scions of slaves,
A desecration of martyrs' graves,
A hate-filled tutorial from the king of the greedy,
Obscene graffiti on the Lincoln Memorial.
Christ's cross defiled,
A re-betrayal of Haynes and Mary Turner and their child.
Yet there he is: pathetic, vain,
Pouring out bile like endless rain,
Stifling hopes, inflicting pain,
Reviving racist tropes for political gain,
An arrogant narcissist shrouded by thieves,
A soul badly broken,
Indifferent to the wreckage he leaves,
And the wounds he rips open.
The rise of this reign of terror
is not just another Republican "error".
Racism is not just another wrong.
Strange Fruit is not just another song.
A dirge is not just another sound.
Gettysburg's not just another plot of ground.
Barbarity at the border is not just another glitch.
The Edmund Pettis Bridge is not just another bridge.
Sometimes it seems we're living a nightmare,
On the river Styx, or on a crazy carousel.
Not every balcony is like the one outside room 306
At the Lorraine Motel.
And not every president is like this one,
Who pries open the age-old wound
And delights as it oozes pus.
Such racism indicts Trump.
Looking away indicts us.
While fire rages everywhere
We must not stand
With folded hands and stare.
---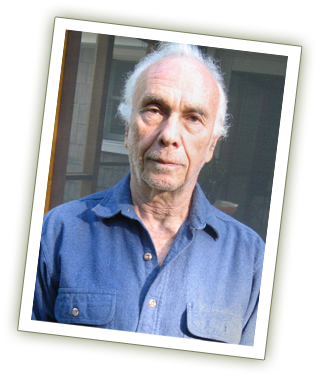 About Wally
Grew up in Brooklyn, attended Alfred University and Penn State. Professor of Physics at Long Island University, Brooklyn, till retirement in 2013. Acted in Summer Stock from 1964 through '69, and at the N.Y Shakespeare Festival Theater. Co-produced and directed a play on the holocaust, and 2 films on Albert Einstein. Wrote the libretto for an opera based on The Dybbuk. Writes poetry, teaches adult ed, and practices Tai Chi. Married with 2 children, lives in Pomona, NY.